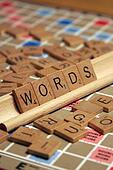 Ready for some fun? Let's beat the winter blues and play around with words, or should I say letters. It's purely a fun exercise that just might stretch your vocabulary. We could make it a CONTEST if ten or more willingly participate. All you have to do is put together a sentence or string of sentences that start with the same letter and make sense. Readers hear the same sound over and over. Other uses of alliteration can be found with vowels or syllables that sound alike, but we'll concentrate on the easiest method--the first letter.
The following example is one my dad and his dad made up together for a high school assignment way back when. He memorized it and randomly repeats it .
Slim Summerville slowly sauntered seaward. Several sailors suddenly seeing Slim's subconscious surroundings slyly stole Slim's shorts, socks, shoes, shirt.
Pretty cool, eh? I decided to add on to it with:
Suddenly, sleepless songbirds sang silly songs singularly seeking secure streets showing serenity.
My dad and grandfather came up with 19 words. I added a dozen more for a total of 31! Can you beat that? Can you make me laugh or groan? Let's set up some
Contest Rules:
1. Make sure you are a follower on my blog. Standard stuff.
2. Put together a sentence or more that makes sense using first letter alliteration. Filler words are okay but they don't count. Be willing to let me post my favorites on my blog Monday January 30. Don't forget to come back to read them!
3. Send your name and entry to
renaemackley@gmail.com
by Saturday January 28, 2012 at 10 PM Mountain Standard Time.
4. If there are at least ten entries, I will publish the longest, funniest, worst, etc. of my choice. The overall Grand Prize winner will receive a prize--possibly something to do with quality chocolate.
So tell your friends and have fun with it! I can't wait to read them!